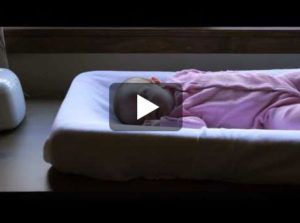 Fertility Miracles: The Gift of Life
Fertility Miracles, nationally and internationally recognized as a distinguished leader in the field of third party reproduction, stands out among its contemporaries as the eminent Surrogacy and Egg Donation Agency providing services to heterosexual and LGBT couples and individuals, single men and women who are seeking to fulfill their dreams of having a family.
My Unique Path to Fatherhood – Conceive Magazine
Author Jonah Borris shares his story: I always wanted to have children, but never in my wildest dreams could I have imagined how I'd finally become a dad. It took a lot of people, time, and money to bring me my twin daughters, but becoming a dad is the best thing that ever happened to me. My 2-year-old twin daughters have brought me more joy, love, and happiness than any words can express. They're my life, and have taught me so much about living in the moment, about what a wonderful mother and family I have, and how important it is to have structure, routine, and discipline.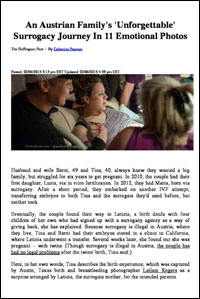 An Austrian Family's Unforgettable Surrogacy Journey – The Huffington Post
This couple from Austria always knew they wanted a big family, but struggled for six years to get pregnant. Read about their journey and the obstacles they had to overcome in this article from the Huffington Post.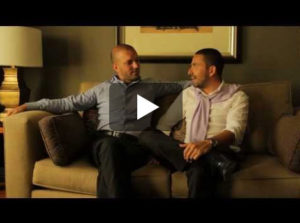 Fertility Miracles: The Story of Esteban and Michele
Our amazing intended fathers and surrogate mother share their beautiful journey to parenthood, and overcame many challenges along the way. See what happens in the video here.
Born in the USA – Fertility Road
Traveling abroad can sometimes be overwhelming and daunting, but it can be a very worthwhile experience when seeking cutting-edge fertility options and solutions. Whether one needs basic in vitro fertilization (IVF) treatment in order to conceive, or the help of an egg donor and/or surrogate mother, these services are not just available but also successful.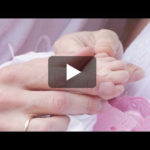 Fertility Miracles: The Journey
Surrogacy offers such a unique opportunity for a family to be created through beautiful journeys with the help of amazing surrogate mothers. Everyday, the love of growing families builds stories to tell people around the world, to have hope, and believe that dreams do become reality. Watch the video.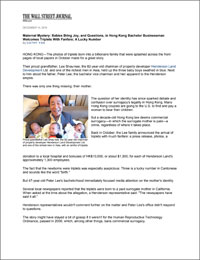 Maternal Mystery – Wall Street Journal
The photos of triplets born into a billionaire family that were splashed across the front pages of Hong Kong papers in October made for a great story. Their proud grandfather, Lee Shau-kee, the 82-year-old chairman of property developer Henderson Land Development Ltd. and one of the richest men in Asia, held up the three baby boys swathed in blue. Next to him stood the father, Peter Lee, the bachelor vice chairman and heir apparent to the Henderson empire. There was only one thing missing: their mother. The question of her identity sparked debate and confusion over surrogacy's legality in Hong Kong. Many Hong Kong couples are going to the U.S. to find and pay women to bear their children.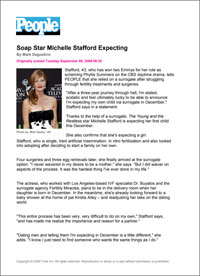 Soap Star Michelle Stafford Expecting – People Magazine
"After a three-year journey through hell, I'm elated, ecstatic and feel ultimately lucky to be able to announce I'm expecting my own child via surrogate in December," Stafford said. Learn more about her remarkable journey.
Can You Help Me Have a Baby? – MomLogic
Read about the beginning of the journey for Leigh and David Koechner, and how the first steps can sometimes seem the hardest.